Take the confusion out of your website messaging and ranking higher in search results!
An in-depth analysis and detailed plan of action to accelerate your online presence.
The MAP is the plan you need to reach your sales goals.
We are confident The MAP will transform your online presence! In fact, your satisfaction is backed with a 100% Money-Back Guarantee!
Digital Copy of The MAP
SEO Project Calendar
Comprehensive SEO Category Checklists
One-On-One Strategy Meeting with Our SEO Tactical Team
SEO strategy is a journey-the sooner you get started, the sooner you'll start seeing results. Schedule a meeting with our SEO Tactical Team to get you headed down the Road to Ranking!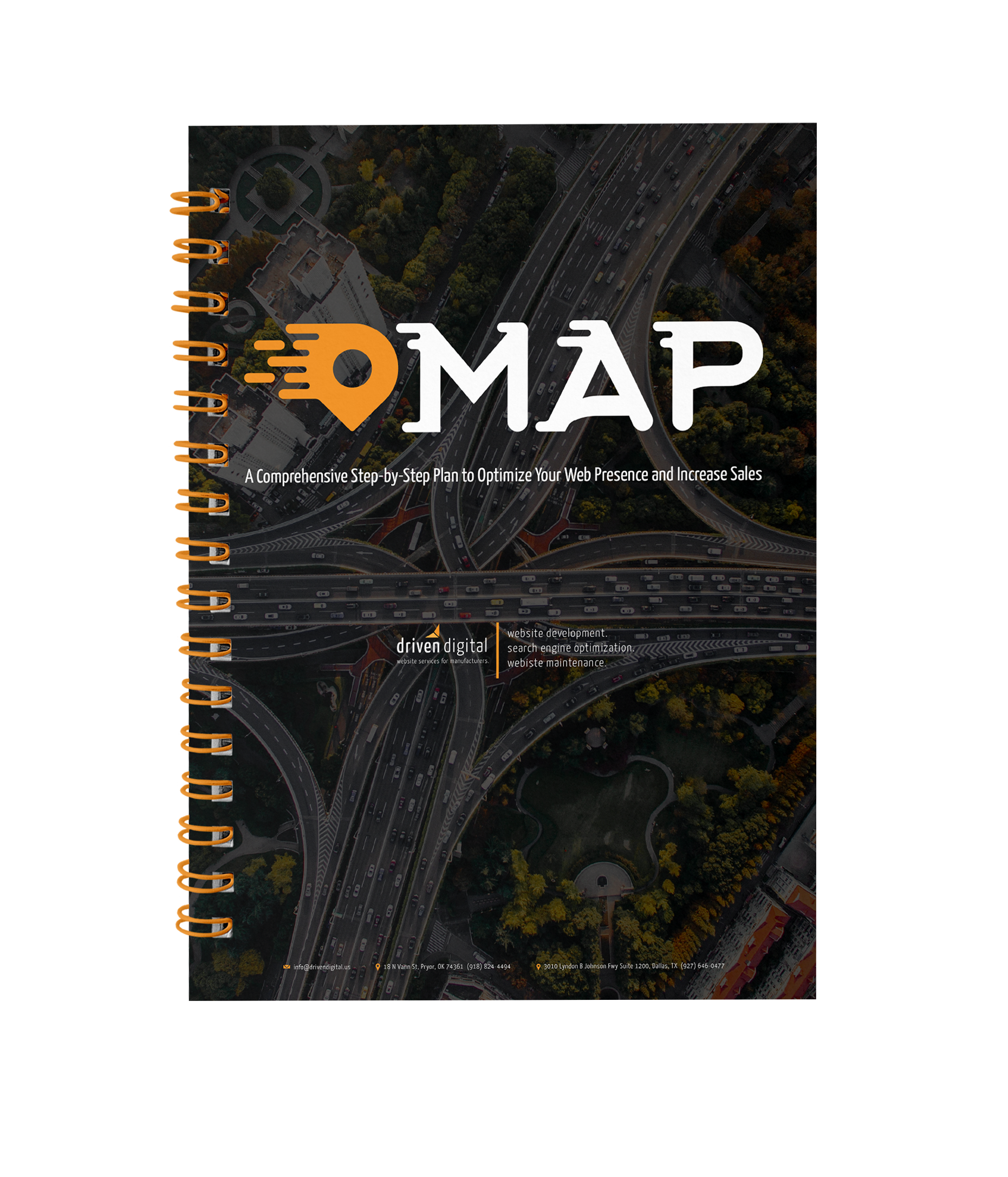 When it comes to an SEO Strategy for your manufacturing business, The MAP is all you need.
We'll do all the heavy lifting by researching your competitors, evaluating your website's health,
formulating keyword, content, citation, and online reputation strategies.
We'll provide you with a step-by-step plan with comprehensive checklists and a project calendar, so you and your team can hit the ground running.
Starting at $3,500, we'll provide a customized MAP tailored to your business's needs and meet with your team one-on-one to prepare you for the journey ahead.
We're so confident that you'll love The MAP, that we offer a 100% Money Back Guarantee!
Frequently Asked Questions
Starting at $3,500, we will provide a customized MAP tailored to your business's needs and meet with your team one-on-one to prepare you for the journey ahead. 
We're so confident that you'll love The MAP, that we offer a 100% Money Back Guarantee!
Before we begin our thorough research and analysis to prepare and provide you with The MAP, we will have an initial discovery meeting to allow us to learn more about your manufacturing company and where your strengths and weaknesses lie. This will allow us to provide our best recommendations and strategies moving forward.
To start the research and strategizing process we will send out an initial invoice and agreement for your approval and signing. Once the agreement is signed and approved we start our research and thorough analysis of The MAP. 
The project timeline for The MAP depends on the complexity and scope of the project. The MAP can take as little as 30 - 60 days to be prepared and ready to present.
Are you feeling overwhelmed and don't have the muscle to implement The MAP on your own?
We can help, and if you choose us the initial investment is applied towards that fee.
The MAP is completely customized to your manufacturing company and its needs. We evaluate your manufacturing companies strengths and weaknesses.
Results vary greatly based on your current status and needs.
We can help! It would be much more beneficial to have an updated website, but if your preference is to keep the one you have, we can still make some changes to benefit your website.
SEO stands for Search Engine Optimization. It refers to techniques that help your manufacturing website rank higher in search engine results pages (SERPs). Ultimately, this makes your manufacturing website more visible to people who are looking for solutions that your brand, product, or service can provide via search engines like Google.
SEO works by optimizing your manufacturing website's pages, conducting keyword research, and earning inbound links. Generally, you can see results of SEO efforts once the webpage has been crawled and indexed by a search engine. There are a lot of ways to improve the SEO of your site pages. Search engines also look for elements including keywords, image tags, title tags, inbound links, and internal link structure.
Additionally, search engines also look at site design and structure, visitor behavior, as well as other external, off-site factors to determine how highly ranked your manufacturing website should be in their search engine result pages.
Your SEO keywords are the keywords and phrases in your web content that make it possible for people to find your manufacturing site through search engines. A website that is well optimized for search engines "speaks the same language" as its potential visitor base with keywords for SEO that help connect searchers to your manufacturing website. Keywords are just one of the main elements of SEO.
In other words, you need to know how people are looking for the products, services, or information that your manufacturing company offers, in order to make it easy for them to find you. Otherwise, they'll land on one of the many other pages in the Google results. Implementing keyword SEO will help your manufacturing site rank above your competitors.
This is why developing a list of keywords is one of the first and most important steps in any search engine optimization strategy. Keywords and SEO are directly connected when it comes to running a winning search marketing campaign. Keywords are foundational for all your other SEO efforts, it is well worth the time and investment to ensure your SEO keywords are relevant to your audience and effectively organized for action.
Google's algorithm and information gathered by the search engine "spiders" create a ranking for a website. Then, the websites are displayed on search result pages in an order that reflects Google's opinion of each manufacturing website's authority.
Being the top result on SERP's establishes the highest authority and relevancy of your manufacturing site's link in regards to a user's search.
The higher the rank, the more traffic to your manufacturing website. The more traffic to your manufacturing website, the higher the opportunity for generating leads and landing potential customers. As you can tell now, it's pretty damn important.